Wuxi Geotec Geological Equipment Co.,Ltd.
No.113,Jiao Shan Road,Yangjian Machinery Industrial Park, Xishan, Wuxi, Jiangsu, China
E-mail:info@coredrillchina.com
Website:
www.coredrillchina.com
The XY-8 core drill machine installs sub-surface fabrications, such as underground utilities, tunnels or wells instrumentation. In geography investigation and exploration, it is used as a drilling machine. XY-8 core drill machine is suitable for different kinds of solid minerals. Geotec provides a variety of core drill machines used for different geographical requirements. Any further information, please don't hesitate to contact us.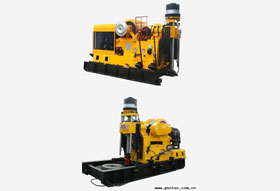 XY-8 Core Drill Machine
Technical Parameters of XY-8 Core Drill Machine:
Drilling Depth
1000m—3000m
Rotate Speed (rpm)
Clockwise Rotation Rates
79; 136; 121; 363; 220; 379; 589; 1011
Anti-clockwise Rotation Rates
51; 142
Diameter of Drilling Rod
Ф50; Ф60; Ф71; Ф89; Ф114mm
Spindle Stroke
1000mm
Shift Range
690mm
Max. Hoisting Force
300kN
Max. Pressuring Force
141kN
Max. Single-wire Hoisting Force
125kN
Max. Content of Winding Drum
120m
Steel Wire Size
21.5mm
Hoisting Speed
0.663; 1.09; 1.693; 2.90; 1.761; 3.034; 4.713; 8.803
Electromotor Model
Y2-280M-4
Electromotor Output
90kw
Electromotor Rotation Rate
1480r/min
Diesel Engine Model
YC6B180D
Diesel Engine Output
134kw
Diesel Engine Rotation Rate
1800r/min
Dimensions
With electromotor 3905×1692×2603mm
With diesel engine 4105×1892×2803mm
Weight
4850kg
We are a professional core drill machine manufacturer and supplier in China. We have gained the recognition of a large number of clients through our 20 years' production experience and marketing and serving experience, and meanwhile we have accumulated abundant experience in terms of products. At the same time, we keep researching core drill machine that can better meet the clients' needs and the market. Our core drill machines have been exported to South America, Africa, East Europe, Southeast Asia, and Middle East. We have clients in America, United Kingdom, France, Canada, Australia, New Zealand, Philippines, Indonesia, India, Chile, Brazil, Russia, Algeria, Morocco, Malaysia, Thailand, Pakistan, Mongolia etc. Located in Wuxi, near Shanghai, the biggest port city of China, we are provided with convenient transportations of any kind, by land, sea or air, which will greatly reduce your transportation cost. To meet the clients' different demands, we can provide all kinds of geological drilling tools, such as diamond core bits (synthetic natural), reaming shells PDC bits, core barrels overshot, drill rods. If you need them, please contact us.
Related products
YDX-6 Core Drilling Rig
The YDX-6 core drilling rigs are reasonable in design, excellent in performance, easy for operation ...

XD-5 Core Drilling Machine
The XD-5 core drilling machine is specially designed for earths surface coring operation of solid mineral ...