The reaming shell is set with natural or synthetic diamond, and it is used to couple the drill bit with the core barrel. Its main function is to ream the hole to the correct constant specific diameter which ensures adequate clearance for the core barrel and sufficient clearance for the new bit which replaces an old one. It also acts as a stabilizer for drill bit. We can produce reaming shells with 6", 10" and 18" length. Reaming shells (with double pads or three pads) are suitable to use in all formation conditions ranging from broken and abrasive to consolidated and non-abrasive. As this kind of reaming shell is physically longer than the standard type, it is necessary to use an appropriate inner tube extension in order to compensate for the difference in overall reaming shell length.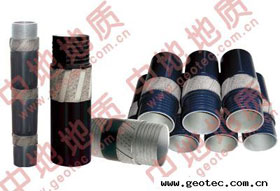 Reaming Shell
Combined high quality and design make our reaming shells the best in the industry. With several different types, we've got you covered no matter what your requirements are.
Size of Reaming Shell Available:
"Q" Series: AQ, BQ, NQ, HQ, PQ (Front end & Back end Type)
T Series: T36, T46, T56, T66, T76, T86
WF Series: HWF, PWF, SWF, UWF, ZWF
WT Series: RWT, EWT, AWT, BWT, NWT, HWT (Single Tube/Double Tube)
WG Series: EWG, AWG, BWG, NWG, HWG (Single Tube/Double Tube)
WM Series: EWM, AWM, BWM, NWM
T2/T6 Series: T256, T266, T276, T286, T2101/T676, T686, T6101, T6116, T6131, T6146, T6H
Others: NMLC, HMLC, LTK48, LTK60, TBW, TNW, ATW, BTW, NTW, HTW, AQTK, NXD3, NXC, T6H, SK6L146, TT46, TB56, TS116, CHD101, EXT
All Chinese Sizes
We are a professional reaming shell manufacturer and supplier in China. We have gained the recognition of a large number of clients through our 20 years' production experience and marketing and serving experience, and meanwhile we have accumulated abundant experience in terms of products. At the same time, we keep researching reaming shell that can better meet the clients' needs and the market. Our reaming shell has been exported to South America, Africa, East Europe, Southeast Asia, and Middle East. We have clients in America, United Kingdom, France, Canada, Australia, New Zealand, Philippines, Indonesia, India, Chile, Brazil, Russia, Algeria, Morocco, Malaysia, Thailand, Pakistan, Mongolia etc. Located in Wuxi, near Shanghai, the biggest port city of China, we are provided with convenient transportations of any kind, by land, sea or air, which will greatly reduce your transportation cost. To meet the clients' different demands, we can provide all kinds of geological drilling tools, such as impregnated diamond bits, diamond core bits (synthetic natural), PDC bits, core barrels, drill rods. If you need them, please contact us.
Related products
Surface-Set Diamond Bits
The surface-set diamond bits are set with a singular layer of natural or synthetic diamond utilizing a hard matrix ...

Casing Shoe
The casing shoe bits (rod shoes bits) are designed to drill in casings or rods in difficult over burden material to ...